The Rolvenden Primary School Helping Hand Fund
We are proud to be able to support those who are the most vulnerable in our community.
During the academic year 2022 – 2023, we were able to support children attend residential trips, attend Breakfast Club and paid for uniform. This ensured that all children at Rolvenden were able to access the full offer which is available here at Rolvenden.
Working Together
Together with our friends at FORS (The Friends of Rolvenden School) and the parish council, we have put together a helping hand fund to support the most vulnerable in our community and ensure that all children are able to access the wonderful opportunities here at Rolvenden. This includes all children across the school including, but not exclusive to, those in receipt of free school meals.
We can support Rolvenden families financially with:
School Uniform (including shoes)

Cost of paid clubs

Cost of school trips (including residentials)

School Events (tickets for shows; discos etc.)

Breakfast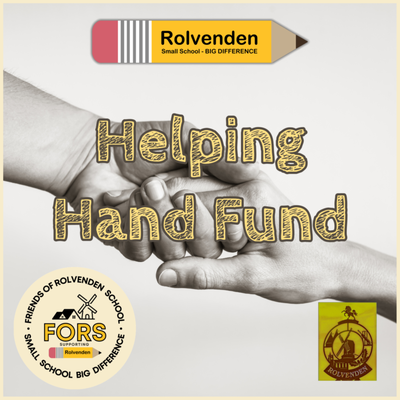 Apply to the Rolvenden Primary School Helping Hand Fund
All submissions are passed directly to Mr Vincer, Head of School, who will confidentially consider all requests on a case by case basis with the other members of the senior leadership team. You may be invited into school for a meeting to discuss the request. The decision of the school is final.
Please complete this form in as much detail as possible with your request for support.